It's never been more affordable to go solar, but it's also very convenient while on the go. Whether you're trying to be more environmentally friendly or wire-free, these solar gadgets for your home won't slow you down. Here are some of our personal favorites.

Source: EnerPlex

Go solar with your phone charger.
You're just about to walk out the door to your best friend's Memorial Day weekend barbecue, and you realize that your phone is dead. Instead of canceling your plans to charge your phone, take a solar-powered phone charger with you. Solar phone chargers are pretty affordable, and most are about the size of a smartphone. While you may not be tempted to cancel your weekend plans for a dead phone, a solar phone charger can come in handy in emergency situations. Some even come with cool survival extras like a built-in flashlight. Glued to your desk instead of the outdoors? You can purchase a solar-powered phone charger that attaches to the window to catch some rays, or a phone case that has its own personal solar panels.

Source: Eton
Rock out to your favorite jams.
Get the party started with solar-powered speakers! These speakers store the sun's energy during the day and can keep the tunes going all night long (up to 8 hours) once the sun dips behind the clouds. Outdoor solar speakers are the perfect addition to any pool party, campsite cookouts, or tailgating event. While these speakers won't save you in an emergency, they're a lot more convenient than trying to find an outdoor outlet and have better sound quality than your phone. Bonus: You can easily plug these speakers in so you can use them anytime, anywhere.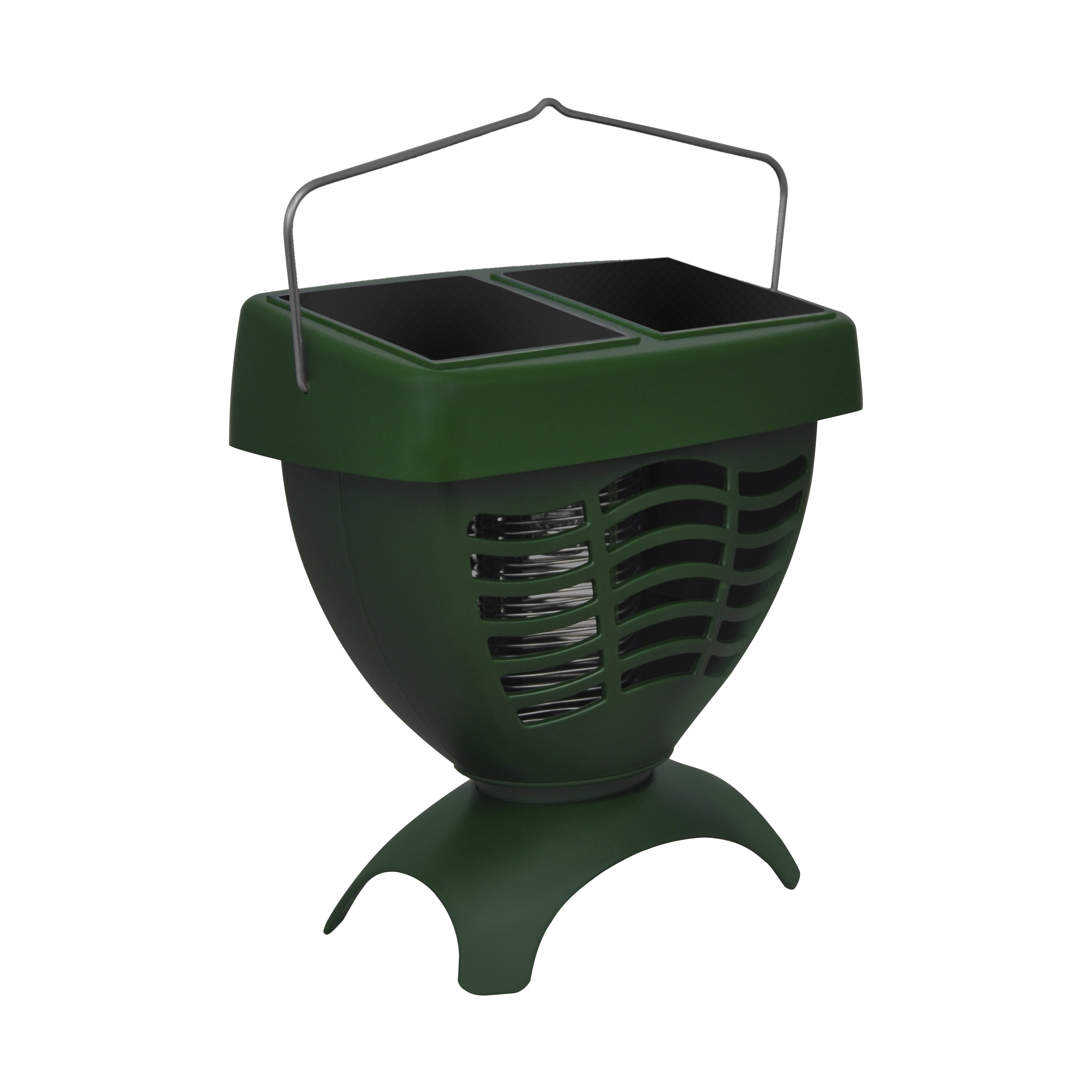 Source: Walmart
Enjoy your backyard. Without the bugs.
Forget about toting around citronella candles, and toss out those chemical-laden DEET sprays. Instead, invest in a solar-powered mosquito zapper that takes the power of the sun to keep mosquitoes and bugs at bay. This inexpensive gadget can be hung or placed in different areas of your yard. After charging up during the day, the mosquito zapper will automatically turn on at sundown.

Source: The Home Depot
Follow the light.
If you live in the suburbs of Massachusetts, you know that it can get pretty dark at night. While you might not be doing too much exploring in the evening, having solar-powered outdoor lights can be helpful to guide you or your pets in your walkway or backyard. Outdoor solar lighting comes in a variety of shapes and sizes, ranging from flood lights to path lights. The beauty of solar lighting is that it's very affordable (your only cost is your initial purchase), and you don't have to worry about shutting them off.
Source: A.O. Smith
Eco-friendly hot water.
Did you know that you can replace your energy-hungry hot water heater with a solar-powered one? Some ENERGY STAR(R)-rated models can get up to 70% of their energy from solar alone. You can again reduce your carbon footprint without sacrificing a hot shower. Also, you may be eligible to get a tax credit to offset some of the purchase and installation costs.
Go solar to lower your energy bills.
Solar gadgets are great for when you're out and about, but what about when you're at home? Installing solar panels not only increases the value of your home but can also save your family thousands of dollars in electricity costs. Are solar panels a good fit for your home?
Call today to schedule a free solar assessment with one of our energy experts. A solar panel specialist will evaluate whether your home is a good candidate for solar panels, and come up with a free, no-strings-attached custom solar panel plan.

Return to Blog